Hi all,
New stock in for Coach and Longchamp. All bags are authentic with individual receipts and tags. Bought from USA and Munich.
SMS
96908509
to deal. Delivery is possible for convenient locations.
Coach Signature Stripe Top Handle Pouch - $150 each
Brown only (BRAND NEW)
With Coach paper bag, tags and original receipt.
Dimensions: 9in (L) x 3.5in (W) x 5in (H)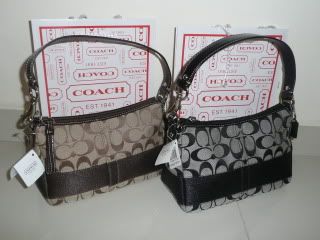 Longchamp Le Pliage Medium Short Handle - $145
Graphite
With receipt and tag (BRAND NEW)
Dimensions: 30x28x20cm
Longchamp Le Pliage Medium Short Handle - $145
Chocolate
With receipt and tag (BRAND NEW)
Dimensions: 30x28x20cm
===================== USED BAG FOR SALE BELOW ===================
Coach Signature Stripe Swingpack - $155
Black
With receipt (Slightly used in very new conditions)
Bought for $299 in Coach Singapore
Comes with receipt, dust bag and coach paper bag
Dimensions: 18 (L) x 20 (H) X 2 (D) cm