iKON (Korean: 아이콘) is a South Korean boy band formed in 2015 by YG Entertainment. The group's seven members are B.I, Bobby, Kim Jinhwan, Koo Junhoe, Song Yunhyeong, Kim Donghyuk and Jung Chanwoo.
According to YG CEO Yang Hyun Suk, the "C" in "ICON" was replaced with a "K" because he wanted them to become an 'icon' for Korea.[1]
Although iKON made their official debut in 2015, the members were well known as Team B pre-debut due to the survival shows "Win: Who Is Next" which was aired in 2013 and "Mix & Match" which was aired in 2014. The group made their official Korean debut on 1 October 2015 through their Debut Half Album - Welcome Back digital release and made their first debut broadcast on 4 October 2015 on SBS's Inkigayo.[2]
History[edit]

2013–2015 : Pre-debut[edit]
Prior to the group's formation, the leader B.I (birth name: Kim Han Bin) made an appearance as a featuring artist with MC Mong, in the 2009 song "Indian Boy".[3] He also performed at the 2009 SBS Dream Concert and made a guest appearance at KBS Yoo Hee yeol's sketchbook along with MC Mong.[4] It was from this appearance that CEO Yang Hyun Suk personally recruited him to YG Entertainment as a trainee.[5]
Member, Koo Junhoe, one of the group's main vocals, also made a predebut appearance as 'the 13-year-old Michael Jackson' on the SBS variety show 'Star King'.[6] He also competed in SBS's survival show "K-pop Star" in 2011.[6]
On 3 January, 2011, B.I and member Kim Jinhwan officially entered YG Entertainment as trainees. A week later, Bobby officially entered YG Entertainment as a trainee. B.I as the leader, along with Kim Jinhwan and Bobby formed the starting lineup of Team B and trained together as a team for a year. On 18 April 2012, members Koo Junhoe and Song Yunhyeong joined Team B. On 5 November 2012, Kim Donghyuk officially joined Team B as the sixth and final member.[7] These six members formed the final lineup of Team B as seen in the survival shows 'Who is Next: Win' and 'Mix and Match'.
On 7 May 2014, Jung Chanwoo, the seventh member of iKON made his first appearance on the show 'Mix and Match.' Prior to 'Mix and Match', member Jung Chanwoo participated in various dramas as a child actor, notably as the younger Lee Minho in the drama 'Heirs.'[8]
Who is Next: Win[edit]
The group was first introduced in 2013 through the reality survival program Who is Next: Win as Team B, consisting of leader B.I, members Bobby, Jinhwan, Junhoe, Yunhyeong, and Donghyuk.[4] Team B competed against another group of trainees known as Team A for the chance to debut as the group Winner. Not only did Who is Next: Win enable the audience to witness the team's singing and dancing skills, the members' talents as composers and lyricists were also shown.
Through three rounds of public voting, Team B eventually lost to Team A and continued as YG trainees.[1] During the survival program they released two singles as "Team B", "Just Another Boy" and "Climax".
Show Me The Money 3
The following year, members Bobby and B.I. participated on a rap survival program called 'Show Me The Money 3' while 'Mix & Match' was also being filmed (both shows from Mnet).[9][10] B.I was eliminated in episode 7 as a top 8 participant while Bobby eventually became the season's champion.[4] Through their participation in the show, both members were able to release solo tracks under their name, which were extremely successful domestically and reached the No. 1 position in various music charts.[11] B.I released the self-composed and written single "Be I" while Bobby released 4 tracks under his name "L4L (Lookin' For Luv", "연결고리#힙합 (YGGR#hiphop)", "가 (GO)" and "가드올리고 Bounce (Raise Your Guard and Bounce)." The two members' participation in this program increased public awareness about the rap survival show and gave both a huge popularity boost.
Mix & Match[edit]
In June 2014, Team B competed in a second reality survival program, Mnet's "Mix & Match". This time, the focus was on rearranging the line up of members.[10] The program featured Team B and three new trainees: Jung Chanwoo, Jung Jinhyeong and Yang Hongseok. [8]The winners would debut together under the name iKON as seven members. At the press conference, it was announced that B.I, Bobby, and Jinhwan were already confirmed members of iKON, leaving the remaining three members of Team B to battle for one of four places alongside the 3 new trainees. The three confirmed members, B.I, Bobby and Jinhwan were responsible for leading the remaining members in each battle for the final battle where each member would demonstrate their skills to the public. It was reported that roughly 150,000 fans applied for the attendance in the final performance of "Mix & Match."[4] Before the official announcement of iKON's final lineup, YG's official blog server was jammed.[11] The members that made it in were Junhoe, Yunhyeong, Chanwoo and Donghyuk.[8] On 29 December 2014, "Mix & Match" was aired on the CS channel in Japan.[12]
Pre-debut Featurings, Compositions and Success[edit]
On 9 November 2013, BIGBANG's Taeyang, a senior in their company, YG Entertainment, released the music video "Ringa Linga" which featured the Team B members (also Team A members) as backup dancers. On 11 April 2014, YG revealed that the six members of Team B will be included in YG FAMILY's Japan Tour which was held on 12 and 13 April 2014 at Osaka Kyocera Dome.[13] On 12 August 2014, the No. 1 hit mid-tempo hiphop track "Empty" by Winner was released, which was co-composed by leader B.I, co-written by B.I, Bobby and WINNER's Song Min Ho.[14][15] On 18 October 2014, "Born Hater", the title track of Epik High's eighth Korean studio album featuring B.I and Bobby was released. Epik High, like BIGBANG's Taeyang, are iKON's labelmates. [10] In Epik High's Shoebox Commentary CD, it was revealed that B.I was asked by Tukutz, an Epik High member, to create the hook melody of "Born Hater."[16] B.I and Bobby performed "Born Hater" alongside Epik High and Winner's Mino at the 2014 Mnet Asian Music Awards and SBS Gayo Daejun. Bobby featured in "YG's 2nd HIPHOP PROJECT" song "Come Here" with senior rappers Masta Wu and Dok2. Bobby too featured in company seniors Hi Suhyun's "I'm Different". Both songs were chart toppers.[15][17]
Through their participation in "Mix & Match" in September 2014, the iKON members were able to meet their Korean, Japanese and Chinese fans through fan meetings. Approximately 40,000 local Japanese fans applied for the fan meeting held at Osaka Tojima River Forum that could only accommodate 2,000 people while more than 60,000 people applied to see iKON's fan meeting in Beijing, China.[18] From 15 December 2014, the iKON members were given the opportunity to perform as the opening act for BIGBANG's Japan five dome tour "BIG BANG JAPAN DOME TOUR 2014-2015 'X'."[19][10]
On 28 January 2015, Billboard announced iKON as one of the "Top 5 K-Pop Artists to Watch in 2015," which was based on chart scores, fans' response and YouTube viewing rate. Notably, iKON was the only group mentioned on the list that had yet to make an official debut, proving their immense pre-debut popularity.[20]
2015: Debut and Welcome Back[edit]
After several delays, on September 8, 2015, iKON's official debut was announced through a teaser posted on YG Entertainment's website.[21] It was later revealed that iKON would be releasing their debut single on September 15 and a total of five songs among 12 would be title tracks.[22] Additionally, their debut album, Welcome Back, would be split in two parts. The first part, Debut Half Album was set to be released on October 1, followed by the Debut Full Album on November 2.[23] The entire tracklist for iKON's Debut Half Album, was revealed on the 24th of September, with leader B.I as the album producer and co-composer for all the tracks, B.I and Bobby as the co-lyricists to all the tracks and vocalist Koo Junhoe participating in the composition of title track "Rhythm Ta." [24]
On 15 September 2015, 12:00 am KST, iKON's debut single "My Type" was released alongside the music video. Immediately after release, "My Type" took over all eight major real-time music charts in Korea, claiming the No. 1 spot on Melon, Mnet, Olleh, Bugs, Genie, Naver Music, Soribada and Monkey3.[25] They achieved a 'Certified All-Kill' by topping both the real-time and daily charts of the aforementioned music sites, becoming the first male group to achieve a 'Certified All Kill' on the Instiz chart with their debut song.[26] Within 24 hours of its release, the music video for "My Type" surpassed 1.7 million views on YouTube.[27] Although officially debuting on 1 October 2015, iKON received their very first win on a music show on 26 September 2015 on MBC's Music Core with the single "My Type" even though they had yet to make their official debut appearance on music shows. [28]
According to Korea's official music chart Gaon, on 24 September, iKON's "My Type" took a triple crown on the Gaon chart, achieving the No.1 position on the digital chart, download chart and streaming chart for the 39th week of 2015.[29] "My Type" alone was able to achieve 18 Melon roof top kicks, which refers to a song going beyond the range of statistics in terms of real-time streaming volume, on the Melon chart, making them the first male group to ever hit the Melon chart roof upon debut and the second boy group with highest Melon roof kicks after Big Bang from 2011 to 2015.[30] On 18 September, iKON's "My Type" MV took the No. 1 spot on the MV Chart and K-POP MV Chart of China's biggest music streaming site, QQ Music. iKON also became No. 1 on This Week's New Song MV Chart and K-pop MV Chart of China's biggest video site,Youku and iKON became the most searched word on Weibo, where iKON has reportedly been searched 1.3 billion times.[18]
iKON held their sold out debut concert 'SHOWTIME' on October 3, 2015, at the Seoul Olympic Gymnastics Arena which held 13,000 people.[31]Reportedly, press from Korea, China and Japan attended the concert and noted that iKON's debut concert was held at the largest concert hall in Korea which was unprecedented for a rookie group.[32] Their debut concert 'SHOWTIME' was broadcast live through Naver's 'V' app and over 500,000 viewers streamed the concert real time.[33] It was also through 'V' app where the group's official fan club was revealed to be "Ikonics." It was also revealed that there were plans for iKON's Japan debut in January 2016 along with their first-ever concert Japan arena tour "iKON JAPAN TOUR 2016" in February. The plan thus far is to draw a total of 95,000 fans from a total of nine concerts in three cities including Tokyo, Budokan and Mecca.[19]
On 1 October, iKON's Debut Half Album was released digitally and it immediately topped the iTunes charts in 11 different counties, Hong Kong, Indonesia, Laos, Macau, Malaysia, Panama, Peru, Singapore, Taiwan, Thailand and Vietnam. The album also took the 24th place on the same chart of Canada and 26th place in the United States.[34] Domestically, all the songs in the album were immediately ranked within the top 10 on the music charts, notably, "Rhythm Ta" topping the real time music charts Genie, Olleh, Naver and Soribada.[35]
On 4 October, a day after their debut concert, the group held their first debut stage on SBS's Inkigayo with "Rhythm Ta" and "Airplane" and on the same day received their third music show win with their No. 1 hit "My Type" in person. [36] On 8 October, iKON gained another win, being the first for their title track "Rhythm Ta" on Mnet's M!Countdown and fourth No. 1 win on a music show since the 15th of September.[37] According to the Gaon Music Charts, iKON topped the weekly album sales charts at the No. 1 position with their Debut Half Album - Welcome Back for the first time for the week of October 4 to 10.[38]
From the beginning of October 2015, iKON embarked on their series of Japan fan meetings "iKON FAN MEETING 2015 in JAPAN - iKONTACT" in Tokyo, Aichi, Fukuoka and Osaka,[19] and drew 26,600 fans.[39]
As of November 2015, with iKON's Debut Half Album - Welcome Back reaching sales of 82,208 for the month of October, iKON has the highest first month sales for a debut album from a male group ever since 2011 when the Gaon music charts started reporting physical sales.[40] According to the November Gaon music chart report, iKON's "My Type" is currently in 8th position of top downloaded male group songs in 2015 and iKON is the second group to appear on this chart after Big Bang.[41]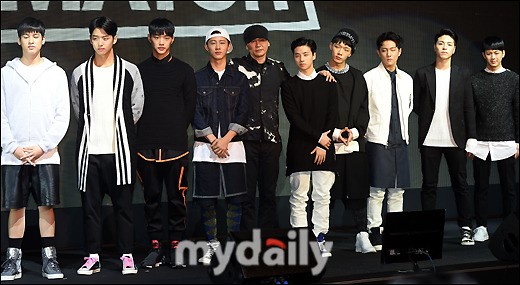 https://en.wikipedia.org/wiki/IKON_(South_Korean_band
)