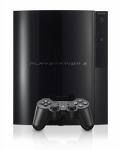 Playstation 3 is the third home video game console produced by Sony Computer Entertainment and successor to the Playstation 2 as part of the Playstation series.
PS3 Hardware -
Q: What's the difference between the 20GB, 40GB, 60GB and the 80GB model?
A: All 4 are Playstation 3 systems with different Hard Disk size to differentiate between the difference specifications, supporting the standard features such as Blu-ray movie playback, DVD playback (does not support VCD), Bluetooth and PS3 games. Except the following differences -
20GB - 4USB Ports, SACD, Hardware Support for PS2, No WiFi, No Memory Card Reader - Black - EOL
40GB - 2USB Ports, No SACD, No support for PS2, WiFi, No Memory Card Reader - Black or White
60GB - 4USB Ports, SACD, Hardware Support for PS2, WiFi, Memory Card Reader - Black EOL
80GB - 4USB Ports, SACD, Software Emulation for PS2, WiFi, Memory Card Reader - Black
Q: How do tell the difference between the models?
A: The 60GB/80GB model has a silver trim running on the front of it, and has a flap concealing the card readers to the left of the disc slot. The 20GB model has no silver trim, and no flap, while the 40GB model only comes with 2 USB ports.
Q: Which cables comes with the PS3?
A: The PS3 comes packaged with a Composite A/V cable (Yellow, red, white connectors), an Ethernet cable, USB cable for connecting controller to the PS3 and charging, and a power cord.
Q: Is the power supply universal or only 110V/240V?
A: The PS3 power supply is universal input, though there is a sticker indicating 220V (110V if other region sets), it is just an indication for the market the set is intended for, it supports both 110V and 240V without a need for user to do anything.
Q: Is it possible for me to change the internal HDD of the PS3 to a bigger one?
A: Yes, as long as the Hard Disk is a 2.5" SATA Hard Disk regardless of brand and speed but 5400RPM will do as 7200RPM does not make it much faster. PS3 supports any capacity, you do not need to format it prior to installation, and it does not void warranty by changing the Hard Disk. For a step by step guide on how to change the hard disk, please take a look at
http://asia.cnet.com/digitalliving/t...2032875,00.htm
PS3 Accessories -
Q: PS3 SixAxis Controller?
A: PS3 is using Bluetooth for connection, so all the PS3 controllers works wireless, the name of the controller is SixAxis. It supports motion sensor thus the name SixAxis. It does not rumble like DualShock2 which is the controller for PS2. USB Cable for charging the controller does not come with the purchase of controllers, you have to use the cable that came with your PS3.
Q: DualShock3?
A: DualShock3 is a SixAxis controller but with rumble feature, it's slightly heavier than SixAxis due to the weight of the rumble mechanism but it works exactly the same as SixAxis and it supports all the games, but it is up to the game whether it supports rumble effect or not.
Q: Blu-ray remote controller is needed for watching movies?
A: The Blu-ray remote controller is not needed for watching Blu-ray or DVD movies on your PS3, but it does feature a easier way for you to watch movie due to the layout of the functions, SixAxis will be able to do all the same thing but you need to access the menu and choosing the function you want using the controller.
Q: What kind of headset should I use?
A: PS3 uses Bluetooth for the communication between the PS3 and the accessories, so in order to use a wireless headset, you can use any Bluetooth headset commonly used for handphones. For wired headset, you can use any USB headset that does not require drivers.
Q: How many controllers can be used at any time?
A: You can pair up to 7 accessories at any time, which includes SixAxis, Blu-ray remote controller and Bluetooth headset.
Q: Can I use USB keyboard and mouse on my PS3?
A: Yes, USB keyboard and mouse is supported (both wired or wireless) but only for web browsing or input of words for chatting in game, PS3 does not support keyboard and mouse for gaming, unless if the game supports it, which right now only Unreal Tournament 3 supports keyboard and mouse gaming.
Q: Region issue for accessories?
A: No, all the accessories work on your PS3 no matter which country you buy it from, the only difference is the packaging.
PS3 Technical -
Q: What is SDTV and HDTV?
A: SDTV is Standard Definition TV where as HDTV is High Definition TV which supports 720P , 1080i and Full HD supports 1080P as well.
Q: 720P or 1080i or 1080P?
A: Those using HD Ready TV (720P.1080i) should set the output to 720P as it is nearest to the native resolution of the LCD TV, you can do so by going to the video settings and untick 1080i. Those using 1080P can just leave the settings as it is, which is 1080P by default, the PS3 will detect what resolution the TV supports so do not be alarmed if 1080P does not show up as an option if you are using HD Ready TV.
Q: My PS3 is set to output at 1080i but why does it change to 720P when gaming?
A: Most games runs at 720P and not 1080i, thus the game will run at 720P instead of 1080i.
Q: Can I use LCD Monitor instead of LCD TV?
A: Yes, as long as the LCD Monitor is 17" and above it supports 720P, but you need to make sure your monitor supports HDCP to allow video signal to display through the HDMI output of the PS3, and you will need to use HDMI to DVI cable which will only deliver video signal.
Q: How about the audio?
A: You will need to use the composite cables and extract the audio from the two red and white cables by using a 3.5MM adapter and use it on PC speakers. Do take note that using this method, you will only be able to get stereo audio, for multi-channel audio, you must either use HDMI or Optical output.
Q: What video cable should I use?
A: The PS3 comes with the standard Composite cables which DOES NOT support HD, in order to get HD quality, you need to use a HDMI or Component cables, preferably HDMI cables if you TV supports it, if not Component cables will do the job as well.
Q: I just changed my cables but I do not see any image?
A: When the PS3 is in standby (red light), press and hold the power button until you hear a beep, the PS3 will then reset the video output settings and reconfig the settings.
Q: Quality of cables, does it make a difference?
A: For HDMI, quality of cables does not make a difference, you can use any HDMI, for cheap alternative, you can consider getting online. For Component cables, quality of cables does make a difference, but the Sony original Component cables will do a very good job.
PSN Network -
Q: PSN?
A: PlayStation Network, often abbreviated to PSN in the gaming community, is Sony's free online service provided for use with their Playstation 3. It is an account that you create using your PS3 that makes you unique, and all the online gaming will be using the same nick, you can add friends as your buddy to your buddy list (max 50) to play together online easily. The country you set when you sign up is the Store you will get access to.
Q: Why do people get to download this demo but it is not available for download for me?
A: Don't worry, the reason is because there are US, UK, HK/SG, JP, Australia PS Store which offers different contents for users to download, so you need to create a US PSN account to access the US PS Store in order to download contents only available on US Store.
Q: So how do I create another US/JP/UK/Australia PSN account?
A: First, you need to google for a valid zip/postal number for the country you are going to sign up for, you can try finding the address of a company's office at that country.
Follow this step by step guide for more reference on creating your PSN account -
http://www.britishgaming.co.uk/?p=1827
Set the PS Store you want as your country, example USA to create a US PSN account to access US PSN Store.
Error Codes On the PS3
Code:
[b]
80029945 - Can't playback burn BDr movie (error message in the picture above)
710102 - DNS Error; No DSN server available.
8013030 - System Error due to failed update download
80010001 - Major Error , Game ability stopped
80010017 - Can't start Blueray Game
80010510 - Will not play hard drive games - Cause unknown
80010516 - An error occured during the start operation; Ps1 game swapped using the eject function and then play pressed quickly, ps1 game inserted again
80029023 - Exchanging Key Information exchange has timed out
80029024 - "Cannot Obtain an IP address".
80029564 - Downloaded Game will not install - Cause unknown
80030920 - An error occurred during the copy operation. The file may be corrupt or there isnt enough memory. Try copying data from original source.
80031150 - System Settings Fail to Save - Possible Blue Screen "Setting information is corrupted.Pre
80031601 - Error Creating Account
80130203 - PS3 connects to internet but not to network - Typically means that the required ports are
80410418 - DNS Error
80710016 - Playstation Network is down.
80710092 - "An error has occured. you've been signed out from the ps network" - (connection dropped?
80710101 - Conneciton error
80710102 - IP conflict , PS3 Cannot connect to the router with current IP information - Try rebooting your router
80710541 - The connection to the server timed out. ss the x button to repair and restore default"
80710723 - Possible Port Error - Try opening ports , TCP port: 80, 443, 5223 and UDP port: 3478, 3479, 3658. or add Ps3 to DMZ
81019002 - Error copying saves from location A to location B not open to connect to store but PS3 can connect to internet.
8001050B - Will not play demo hard drive games, when blue-ray disc is inserted - Cause unknown
8001050D - An error occured during the start operation; Ps3 game swapped using the eject function and then play pressed quickly - ps3 game inserted again
80028EA5 - Unknown?? User cannot connect to PS3 network. Sony told the user to send the machine in.
80028ea6 - Connection error , Possible Proxy error power cord. Then shut off your modem/router, for about 5 mintues, then turn the modem back up first and let it
sync, then turn the router back on(if using one) and let it sycn. Reconnect your power cable and flip the back swtich up again. Then make a new network
connnection.
80028F10 - Go to Display Settings then HDMI (or whatever your connection is) and choose Automactic,
80028f17 - Ps2 disc Boot Error , An error occured during the start operation; Ps2 game swapped using the eject function and then play pressed quickly - Backup ps2
game inserted again (ps3rips)
80028F18 - Ps2 Disc Error, unsupported disc; eg. Utility discs, BB discs, IQ Remix game etc. ode).
80028F19 - PS2 Disc Error , fsck; the internal PS2 disk got corrupted and I guess that you can use HDD utility disc to fix it
80028F1A - Ps2 Disc Error , invalbnnetcfg; network config error
80029C68 - Corrupt data usually on external device
8002A10D - Unable to Add friend in XMB
8002A4A6 - Cannot load game to play online
8002A515 - Error Signing in
8002A548 - Unable to remain logged in - either to game or server
8002A705 - Unable to connect to server/host. Check router port configuration.
8002a71a - Possible NAT Error , Can log onto Game Server but can't join game and can't host game
8002b241 - DVI has no audio
8002F994 - To many people downloading the update just sit back until the morning around 5am - 11am and you should be able to get it.
8002F997 - Trying to Update the Firmware, copying to a file and installing from a USB drive falied".
8003051E - Game will not Save
8013013D - "A connection error has occurred" - May be to do with the SSID of the Router or signal strength if the conneciton drops Putting the PS3 into DMZ may help -
otherwise check WPA key Ps3 can't handle WPA2 only WPA or none
8013013E - WEP Key error, change WEP key to all numbers (on router homepage) and try agian, or which to WPA. - Otherwise disable security
8013030F - Check Router Page, SSID Broadcasting possibly off.
8013030F - Access Point not detected
80410A0B - Internal PSP error, hardware fault. Send back to be replaced/fixed.
807101FF - An error occurred during communication with the server. This is a DNS errorThis is a DNS error
8071053D - Hard boot the PS3, turn off the PS3 to stand-by, flip off the back swtich and remove the
80710B23 - PS3 Network is Down or PS3 Network is too busy to respond
80710D23 - Turn the PS3 off for a bit (30 minutes give or take) with the power toggle (not standby XMB or touch button)
80029513 - Copyright Violation when attempting to install game
8002AD23 - ??? Found to be related to a connection issue Check to make sure firewall is off to see if that helps. (possibly network/update error)
80010514 - Disc error detected. Retrying operation.
80010036 - an error occured during the delete operation error.
80010014 - Has to do with downloading from the PSN, When you have bought a game and this error occurs, please go to your "recently downloaded/purchases" to
download it first try.
8002F147 - Cannot update the firmware, Possible solutions, turn off proxys, try not using a firewall, and/or turn off UnuP support.
Souce : official playstation forum
PS3 Region Issues -
Local PS3 supports only the following -
All PS3 games
NTSC/J PS2 games - 20GB, 60GB, 80GB PS3
DVD Region 3
No way to play DVD Region 1 or NTSC/UC PS2 games unless you purchase a US PS3 set.
How to check the region of the PS3 game -
There are a few ways to check the region of the PS3 game you are looking to purchase -
Product code
Look at the side of the box where the name of the game is stated on along the sides. Check the bottom of the side you should be a set of code and numbers.
BLUS - R1 USA
BLES - R2 Europe
BCJP - R2 Japan
BCAS - R3 Asia
BLAU - R4 Australia
Game rating - Best if you cannot check the game, only can look at the cover
Look at the front cover of the game, on the left hand bottom corner there should be a box to indicate the rating of the game.
If you see any of this ESRB rating design logo, it means it's R1 USA game -
If you see any of this PEGI rating design logo, it means it's R2 Europe game -
If you see any of this CERO rating design logo, it means it's R2 Japan game -
If you DO NOT see any rating logo, it means it's R3 Asia game
If you see any of this OFLC rating design logo, it means it's R4 Australia game -
Why care about the region of games when PS3 is region free?
There are a few reasons to do so, although games are region free but the way each region works is different.
Most of the time, if there are any update patch for any game, it will arrive for R1 first because USA has the fastest speed on delivering contents.
Downloadable contents from the PS Store is also region locked, so you need to download from US Store if you have a R1 copy of the game and so on, and some contents are not available on Asia store while available at US Store.
Online gaming server might be region specific and US has the most people playing, where as R3 Asia is mostly empty.
Cover art design which is purely up to individual preferences.
English manual, instead of possible Chinese manual for R3 Asia games with a small English booklet covering only the basics.
__________________
Credit to charleslin from GameAxis for making this awesome guide. i just post here to share with you guys