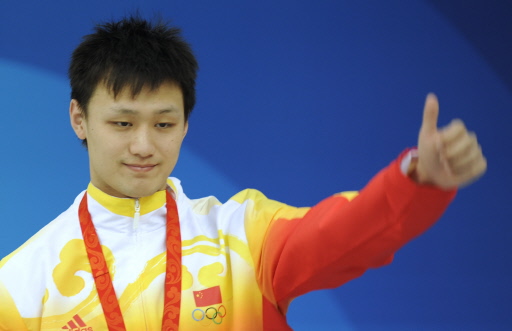 Second placed China's Zhang Lin stands on the podium after the men's 400m freestyle swimming final at the National Aquatics Center during the 2008 Beijing Olympic Games on August 10, 2008 in Beijing. [Agencies]
"I'm very happy to have won the Olympic medal for China. It's a great breakthrough," Zhang said after the race.
"I didn't expect to win the silver. I performed beyond my expectations. I hope the whole Chinese swimming team can do better than in the last Games," he said.
At the Athens Olympic Games, China's only medal in swimming came in the women's breaststroke, where Luo Xuejuan won the gold. The best result for a Chinese man in the Olympics was a fourth-place finish in the men's 50m freestyle by Jiang Chengji at the 1996 Atlanta Games.
Until now. Even head coach Zhang Yadong did not expect Chinese swimmers to win a medal in Beijing.
But Zhang proved him wrong. He set a new Asian record in the first heat on Saturday and turned in a strong last 50m in the final Sunday to claim the silver, with a time of 3 min 41.86 sec. He overcame Australian Grant Hackett, a two-time gold-medal winner who finished a disappointing sixth.
Reigning world champion Park Tae-hwan of South Korea won the gold, while Larsen Jensen of the US took bronze.
"I didn't notice that Park was leading the race, since there was a lane between us," said Zhang. "I just tried to catch up with Hackett in the first half and then surpassed Jensen."
Zhang took up swimming at the age of 7 and was selected for the national team in 2002.
Two years later, he set a national record in the men's 400m.
Zhang was considered one of China's best hopes for a medal in men's swimming before the Games after spending several months earlier this year training in Australia with
Denis Cotterell, Hackett's former coach.
At the Olympic trials in April, Zhang posted a national record of 3 min 44.97 sec in the 400m and narrowly missed the Asian record in the 1,500m, where he swam 14:55.98.
Zhang attributed his improvement to his Australian coach.
"Coach Cotterell is a great coach and I'm very happy to work with him," said Zhang, who is the first Chinese swimmer to train outside China. "My Chinese coach, Cotterell and I are a team and this silver medal is an achievement for all of us."
Cotterell has coached 16 Olympic swimmers and has guided countless others to state and national titles. Four of his swimmers - Hackett, Daniel Kowalski, Giaan Rooney and Andrew Baildon - have won Olympic medals.
The Australian coach had high praise for Zhang as well.
"He has worked very hard and I hope he does well," said Cotterell, who coached Hackett to two Olympic gold medals before being invited by China to help the Chinese swimmers prepare for the Olympics.
"This guy (Zhang) is improving, and I just hope I do a good enough job so as not to have a billion Chinese get their hopes up and then have them dashed."
The idea of sending Zhang to train with Cotterell was first broached four years ago, when the Chinese head coach met with Cotterell at the Athens Olympics. At last year's World Championships in Melbourne, Cotterell was again contacted by the Chinese and asked if Zhang could come to Australia to train, which he did at the end of last year.
Cotterell said he has not been asked to coach the Chinese swimmers after the Olympics.
"That's up to them. But I will work with them for sure (if they ask). They are good people and they have the potential to get better," he said.
Zhang also said he would like to continue to train with him in the future.
Source: China Daily, August 11, 2008